Personality Type and Mental Illness – Part 4 – The Guardians
I wrote about the Myers-Briggs personality types and mental illnesses about five years ago. Since then I've had a change of heart and really don't feel like it's ethical to make any comparisons between types and the mental illnesses they may be more susceptible to. If you'd like to look into the correlations between personality type and mental illness further you can check out the links and case studies below, but I've deleted everything I've written on the subject just to avoid the possibility of it being harmful in any way.
An Empirical Investigation of Jung's Psychological Types and Personality Disorder Features (Read this if you want to see real data about the correlation between type and mental illness)
Was That Really Me? How Everyday Stress Brings Out Our Hidden Personality by Naomi Quenk. This book is excellent in understanding the unusual ways each personality type responds to stress.
Myers Briggs Type indicator personality profiles in unipolar depressed patients – Case study
Over-representation of Myers Briggs Type Indicator introversion in social phobia patients – Case study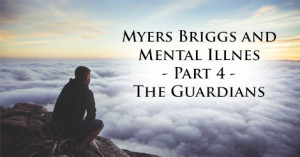 The following two tabs change content below.
Susan Storm is a certified MBTI® practitioner and lover of all things psychology-related. She is the mom of five beautiful children and loves using her knowledge of personality type to understand them and others better! Follow her on Facebook, Twitter, or Pinterest to learn more about type!
Latest posts by Susan Storm (see all)