How to Maximize August, Based On Your Myers-Briggs® Personality Type
August is here. Independence Day has passed, the sunsets feel warmer, and some children are already returning to school! Many of us feel like we've wasted the first half of summer and want to end the season on a high note.
The good news is that it is never too late to revel in summer's magic. We can still use the time we have left to its biggest potential – but it will look different for each Myers-Briggs personality type.
Not sure what your personality type is? Take our personality questionnaire here. Or you can take the official MBTI® here.
How to Maximize the End of Summer, Based On Your Myers-Briggs® Personality Type
The ESTJ – Take on a charity project.
"Peace, love and gentleness" is probably not the first thing that comes to mind when one thinks of you. You chase down your goals with unmatched intensity and gumption and some people find this intimidating!
But at the core of your work ethic is a sense of duty to uphold the people around you. This can be channeled toward pursuing a project that helps others.
Start up a nonprofit project to raise awareness and funds for people in need. You are a natural leader and your distaste of backing down from a challenge will take your efforts far.
To experience joy: Create and stick to an early morning routine.
Your summer song: "Over Yet" by Hayley Williams
Read This Next: 24 Signs That You're an ESTJ, the Captain Personality Type
The ISTJ – Enjoy your friendships.
As an ISTJ, you are seen by your friends as a source of reliability in an ever-shifting world. You are the person who will drive them to the airport, who will postpone your own needs to be a solid person to lean on. However, this tendency to see relationships as an obligation can eventually make your friendships feel like a burden.
To prevent this, spend the summer seeing relationships as something to enjoy.
Tend to your few closest friendships. It can be as easy as reaching out to a friend and inviting them to a movie night. Have fun without worrying about whether you're giving enough in the relationship. Invite your friends into your world for bite-sized segments. Enriching your in-person connections like this can give you a sense of satisfaction, lower stress levels, and help you feel supported.
As an introvert it can be easy to keep a lot of your interests private, but inviting people into your interests can help you to form deeply meaningful bonds. Just make sure to schedule some alone time once the meetup is done!
To experience joy: Learn everything you can about a summertime hobby – whether it's gardening, swimming or sewing.
Your summer song: "Heat Waves" by the Glass Animals
Read This Next: 24 Signs That You're an ISTJ, the Detective Personality Type
The ESFJ – Start a club.
As an ESFJ, you can be seen by your peers as a social butterfly: bouncing around the party, the master of hosting and conversation. And it's true that you are a good socializer.
But you don't want to stay on a small talk level – you crave deep connections. For you, the pleasure of feeling known by someone else is the greatest fulfillment.
Starting a club is a fun and unique way to make that cross from acquaintance to real friend. Gathering people who share a common interest – books, a sports team, a video game – and having them spend time together each week will give everybody the chance to move the base of your friendship from a hobby to shared experience.
To experience joy: Visit a new restaurant with a friend you haven't seen in a while.
Your summer song: "Entropy" by Beach Bunny
Read This Next: 24 Signs That You're an ESFJ, the Defender Personality Type
The ISFJ – Take a mini vacation.
ISFJs are among the most conscientious and hard-working personality types. You don't work for the good of others with a fake smile – you are actually enthusiastic about making people's lives better. You care.
However, you also tend to neglect your own needs. You pull all-nighters listening to your friends talk on the phone about their problems, and you get up early to volunteer. You drop your plans easily to be at people's sides when they ask. And while you genuinely enjoy doing these things, you can't continue to do them well if you are constantly tired and high-strung.
This summer, set a few days in the month when you turn off your phone and rest by yourself. Go berry-picking, decorate your house. Any activity that rejuvenates you and prepares you to go back into the world to help people is good.
To experience joy: Watch a cartoon from your childhood.
Your summer song: "Simple Things" by Amy Grant
Read This Next: What It Means to be an ISFJ Personality Type
The ESTP – Sign up for a ropes course.
As an ESTP, you are a rare mix of quick intellect and ruthless energy. While others dream of lazy summer days spent doing absolutely nothing, the thought of being sedentary scares you.
Sign you and your friends up for a community ropes course. Scaling contraptions in the outdoors not only exercises your brain, but provides a fresh thrill.
To experience joy: Visit the gym daily, but change your workout routine each time.
Your summer song: "I Don't Wanna Talk (I Just Wanna Dance)" by the Glass Animals
Read This Next: 24 Signs That You're an ESTP, the Daredevil Personality Type
The ISTP – Investigate something random.
As an ISTP, it's not enough for you to observe the world and accept it as it is. Surface understanding doesn't cut it – you take things apart and inspect them, because you must know how they work.
This summer, choose a random facet of the world around you to research in-depth. Whether it's by investigating the rise and fall of an obscure sci-fi show, or figuring out the best way to prepare microwaveable mac and cheese, picking an obscure aspect of life to explore will scratch the itch of curiosity. Have fun with it and transcribe your findings in a notebook.
To experience joy: Discover an extremely niche YouTube channel.
Your summer song: "First Love/Late Spring" by Mitski
Read This Next: What ISTPs Do When They're Really Stressed Out
The ESFP – Be a kids' camp counselor.
As an ESFP, you quickly get in tune with other people's emotions. Often the life of the party, you recognize when people aren't having fun or feel excluded. And you use your impeccable social skills to draw them into the fold.
Use your ability to connect people to the social atmosphere by volunteering at a kids' summer camp. Your optimism and wild ideas will make you the most loved counselor, because kids will adore your knack for making everything ten times more fun.
Are Summer camps over in your part of the world? Maybe you could take a niece, nephew, or younger sibling out for a weekend of fun and do all the activities you used to love as a kid! Whether you're going to a carnival, hitting the water parks, or simply enjoying a popsicle on the front porch, your efforts will be a forever memory they'll cherish.
More importantly, they will appreciate how much you make sure everybody is included in the fun.
To experience joy: Go to late night karaoke.
Your summer song: "Good Time" by Owl City and Carly Rae Jepsen
Read This Next: What It Means to be an ESFP Personality Type
The ISFP – Write one poem a day.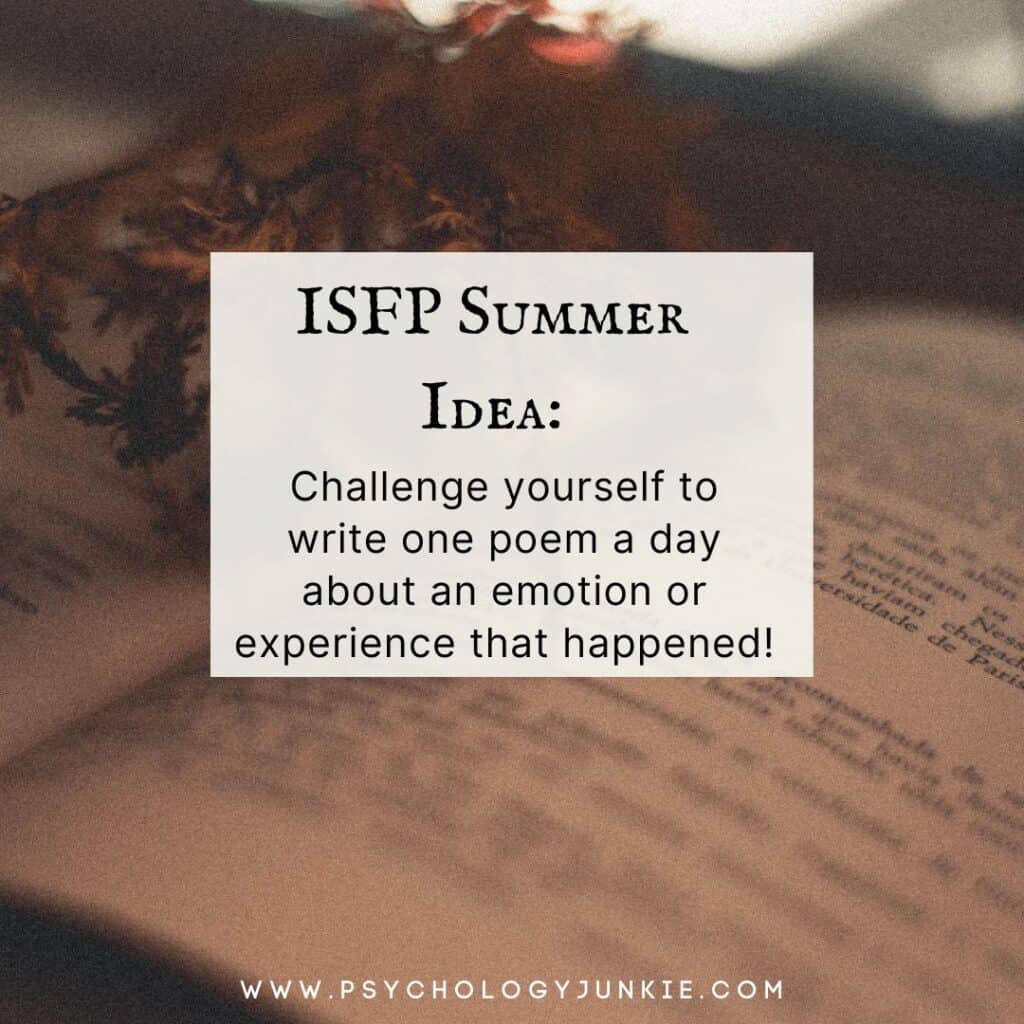 Dubbed the artists of the Myers-Briggs personality system, ISFPs are always looking to turn their emotions and experiences into something tangible. To you, creativity is not a hobby –it's essential to existence.
To give yourself a daily creative outlet and to chronicle your summer, open your Notes app each night and write a poem about one thing from your day.
To find joy: Go to concerts. As in multiple.
Your summer song: "Guitar Romantic Search Adventure" by Wallows
Read This Next: 24 Signs That You're an ISFP, the Virtuoso Personality Type
The INTP – Fall down a YouTube rabbit hole.
Lovers of knowledge, INTPs have an arsenal of random facts at the ready during conversations. You're the kind of person to know obscure world records, or to have watched the entirety of TV shows that are far from mainstream.
Add to your knowledge this summer by opening YouTube. That's it. Once you open it, you'll find a video on an obscure topic that piques your interest. That video will lead to another, and you'll spend the day  in front of your computer. INTP paradise. At the end of the day you could even try recording a video about a topic you're an expert in!
To find joy: Learn a language.
Your summer song: "Freaks" by Surf Curse
Read This Next: 24 Signs That You're an INTP, the Prodigy Personality Type
The ENTP – Write articles for your local paper.
ENTPs tend to be good writers. They have a strong opinion about a topic, effectively argue their point and leave their audience with a completely different way of looking at the world.
Propose opinion pieces about topics you're passionate about to your local newspaper, or write an investigative article about a local phenomenon. Your town's shifting mask regulations? The new book club that members of your community are joining like crazy? Any topic is fair game.
To find joy: Visit the water park with your friends.
Your summer song: "guarded" by Flor
Read This Next: Your ENTP Personality Type and Your Enneagram Type
The INTJ – Begin a collection.
It's not in an INTJ's nature to do anything halfway. Intense and analytical, you will take something that other people see as a fun and carefree hobby and turn it into your life's mission.
Do that with collecting! Find something meaningful or interesting to you and look for ways you can broaden your collection of it. If you're fascinated by psychology, you could collect books, YouTube video playlists, or podcasts. If you're interested in historical artifacts, you could go to antique stores, museums, estates sales, or more to collect items that take you to another time and place in history!
To find joy: Visit the museum.
Your summer song: "Peaches Etude" by FINNEAS
Read This Next: 24 Signs That You're an INTJ, the Strategist Personality Type
The ENTJ – Take your friends on vacation.
As an ENTJ, you are naturally competitive, intense, and (sometimes) a little intimidating. You're also a hard worker. This is exactly why planning a vacation with your friends is exactly what you need this summer. You get the best of both worlds: You can organize and manage the vacation and map it out in your mind. Maybe you can even combine a meaningful cause or a deep interest with your location.
Fascinated by ancient history? Visit Rome or Machu Picchu! Need to keep it closer to home? Plan a staycation where you can learn all about the small local businesses and restaurants in your town, as well as the interesting people who created them.
And, most of all, you can relax. Let the tension you feel melt away when you finally get to your vacation spot, unwinding with people who care about you.
To find joy: Take a kickboxing class.
Your summer song: "Don't Shut me Down" by ABBA
Read This Next: 10 Things You Should Never Say to an ENTJ
The ENFP – Expand your wardrobe
As an ENFP, you're all about risky, individualist self-expression. You want your hair and your clothes to get the person you are across to the people you interact with.
Channel your creative energy into finding cool pieces at the thrift store. Scour flea markets and monopolize your store coupons to buy clothing that is uniquely yourself.
To find joy: Make homemade ice cream.
Your summer song: "Wouldn't it be Nice" by the Beach Boys
Read This Next: 24 Signs That You're an ENFP, The Visionary Personality Type
The INFP – Journal outside
If there's one thing that unnerves other people, it's your ability to amuse yourself with nothing but your thoughts.
It's because your inner world is so rich. You are overflowing with imaginary scenarios, reflections, and fond visions of your future.
Engage with this inner world against the backdrop of a sunny backyard, or a windy beach. Journal reflections on the year so far. Write about your dreams for the rest of the summer. Take joy in the feeling of being completely safe.
To find joy: Buy lemonade from a child's lemonade stand.
Your summer song: "Up With the Birds" by Coldplay
Read This Next: 10 Ways to Spark Your Creativity as an INFP
The ENFJ – Mentor someone
ENFJs aren't commonly called Protagonists for nothing. You inspire others by living your life beautifully, helping others see their potentials along the way.
Use your idealistic desire to love people by taking someone under your wing this summer. This could be as simple as sending them positive affirmations each morning or helping them discover new interests and possibilities!
Many people in your life already look up to you. By "adopting" one of these people, you can enrich both their summer and yours. Just make sure you're making time for your own interests and relaxation as well!
To experience joy: Walk around your town with a camera and take pictures of things that inspire you.
Your summer song: "River Run: Lvl 1" by The Beths
Read This Next: 24 Signs That You're an ENFJ, the Mentor Personality Type
The INFJ – Plant a garden
INFJs have a strong connection between their empathy, sentimentality, and their practicality. You love to challenge yourself, but in a way that appeals to your core values.
Committing to growing a garden this summer is the perfect balance. On one hand, you are nurturing life! Learning lessons about patience and consistency! But on the other hand, you are creating something tangible, like vegetables or flowers.
Take pictures of your plants at the end of each week to chronicle their growth.
To find joy: Volunteer at your local library.
Your summer song: "Matilda" by Harry Styles
Read This Next: 7 Things That INFJs Experience As Children
What Are Your Thoughts?
Did you enjoy this article? Do you have any suggestions for other individuals with your personality type? Let other readers know in the comments!
About the Author:

Muna Nnamani is a high school senior. She's managing editor of her school newspaper, an avid fan of personality typology, and a sucker for good books and bad television. She is an INFP 4w5 and suffers the consequences daily.