The INFJ Enneagram Type One
Are You an INFJ and an Enneagram One? If so, chances are you've felt poorly described by many INFJ articles. Known as warm and imaginative, the INFJ personality type is one that many people think they have pegged. That is, until they discover INFJs with different enneagram types. INFJ Ones may not seem like your typical INFJs. These INFJs strive to be more grounded, matter-of-fact and driven. Less idealistic dreamers and more responsible doers, INFJ Ones believe it is their calling to make the world a better place – and they waste no time trying to do it.
Before we get into a lot of detail about the INFJ One, it's important to note their core fears and desires. The core desire of the One is to have integrity and to be good. The core fear of the One is to be evil, defective, or corrupt. Combine this with the INFJ's natural idealism and you have someone who is relentless in their pursuit of righteousness and justice.
Estimated reading time: 6 minutes
The Life of the INFJ Enneatype 1
INFJ Ones feel it is their duty to improve the world and overcome moral adversity. Thorough and hard-working, they often feel plagued by a sense of not being "good enough." They have an inner critic inside that seems to point out not only their own flaws, but the mistakes and shortcomings of others. In childhood, they often felt that they had to justify their existence, or that they had to take on a lot of responsibility at a young age. More than many other types, Ones felt like they had to grow up quickly, and they often felt like it was their job to become hyper-responsible and reasonable rather than enjoy the whimsy and carefree nature of childhood. When they did get carried away with the playthings of childhood, there was often a voice inside them chastising their "wastefulness" or "frivolity." As a result, INFJ Ones feel a sense of longing for what they never had: freedom to play, laugh, and be carefree. This kind of sensation seems so beautiful but also so impossible to them. The minute they stop and notice all the beauty around them they also notice all the things they should be doing but aren't. Chances are, this INFJ has a to-do list a mile long and restlessly longs for the day when their duties are accomplished. Unfortunately, if these INFJs don't grow and mature that day may be permanently beyond their reach.
Not surprisingly, INFJ Ones will seem more pragmatic and grounded than your typical INFJs. This is because practicality and common-sense are highly valued by the One.
Ones tend to feel a constant sense of personal obligation for the world around them. They find it next to impossible to relax because of the ever-mounting to-do list in their mind. They often feel that others will fail to do a thorough job and so they must do everything themselves. In many cases, they see other people as lazy or under-motivated. Nothing irritates them more than procrastination and wastefulness. Ones want to be around people they can count on, who keep their word and are motivated to improve themselves. As Ones grow healthier they are able to let go of the belief that everything must be perfect – or that they even know what "perfect" is. They become more relaxed, joyful, accepting, and moderate.
Because Ones are in the anger/instinct triad of the enneagram, they tend to experience a lot of rage. However, they may not totally identify their emotions as such. They tend to express anger sideways by being critical towards themselves and others. Rather than blowing up and kicking things around, they criticize themselves, judge themselves or others, bite their nails, grind their teeth, etc,…
INFJ Ones have to make sure they don't subject themselves to frequent burnout. Often workaholics, Ones can struggle to take time for themselves and their own needs. As stress build, they may find themselves experiencing a "grip" stress reaction. Suddenly their long-range vision goes cloudy and they become more impulsive, hedonistic, and rash. Typically careful and responsible, they may destroy their relationships, spend large sums of money, or drink themselves to oblivion. Other Ones may clean their house obsessively or exercise until they collapse. This is a result of them falling into the grip of their inferior function: Extraverted Sensation (Se).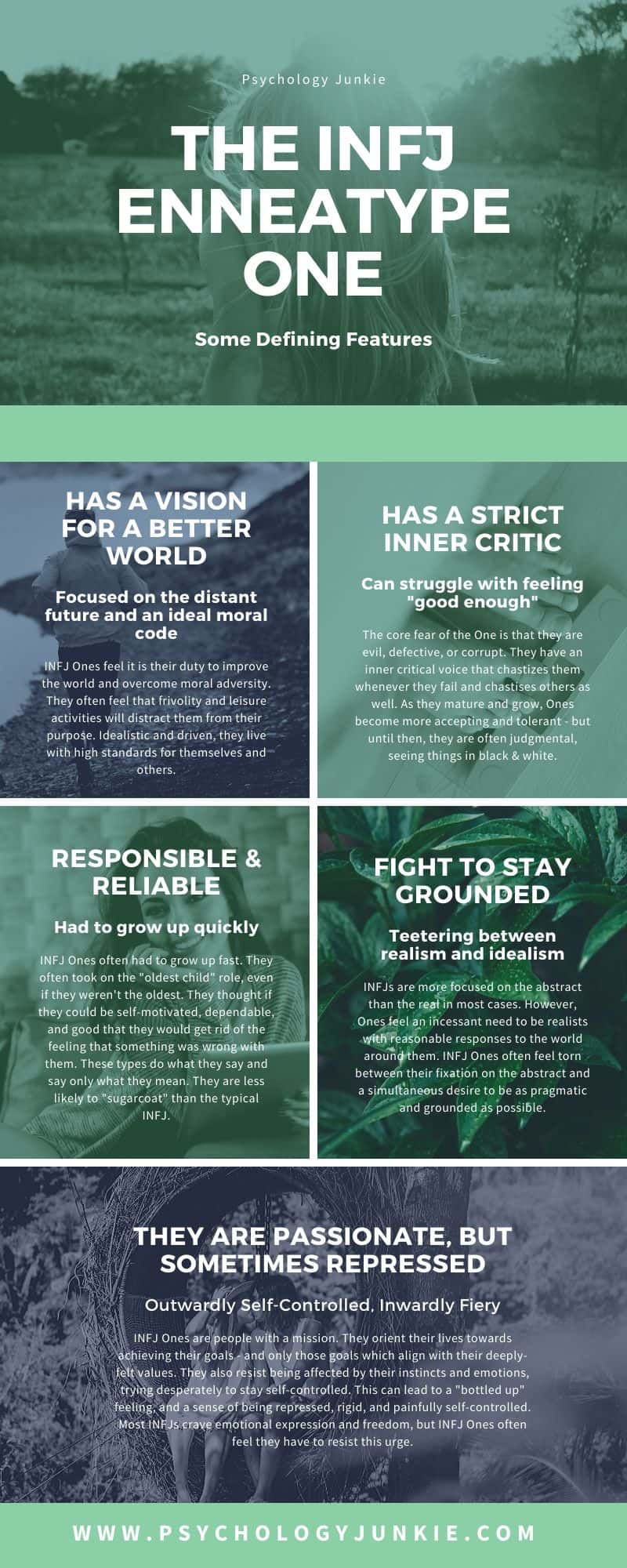 5 Things INFJ Ones Need to Do to Grow:
Realize that your urges (sexual, emotional, physical) are part of being human. Don't condemn yourself for feelings and instincts that are built-in to your human nature. Learn to accept yourself for who you are rather than beating yourself up over every instinct and emotion that you deem as "out of control." Obviously we should be responsible and do no harm to others, but every person in the world has thoughts and emotions that erupt out of the blue. This doesn't make you evil.
Delve into your curious, playful side. Take a painting class, dance like nobody's watching, watch a comedy, or get silly with a pet. You may feel like you're wasting time, but resist the urge to get back to work. This carefree, leisure time helps you to integrate to Seven (your direction of growth). It also helps you to become more accepting, healthy, and mature.
Give yourself permission to ask for help. You don't have to handle everything on your own. Everyone needs help, and your loved ones will feel honored that you thought of them.
Take several breaks throughout the day to tune into your body and define your needs. Are you hungry? Thirsty? Tired? Meditation and yoga can be excellent self-care practices in your day.
Forgive yourself for your past mistakes. You aren't going to get rid of them, but you can learn from them and move on. Own up to these parts of yourself and use them as lessons rather than amulets of shame to wear around your neck.
Unhealthy Ones Can Be: Judgmental, Self-Righteous, Bitter, Overworked, Defensive, and Prone to Black-and-White Thinking. At this stage, Ones feel that they will never be "good enough."
Average Ones Can Be: Serious, Driven, Purposeful, Organized, Punctual, Irritable, Tense, Opinionated, Sarcastic, Hard-Working, Responsible, Dedicated.
Healthy Ones Can Be: Purposeful, Honest, Sensible, Moderate, Objective, Accepting, Hopeful, Wise, Discerning, Joyful, Humble, Playful.
What Are Your Thoughts?
Do you enjoy this article? Do you have any wisdom or insight to share? Let us know in the comments!
Find out more about your personality type in our eBooks, Discovering You: Unlocking the Power of Personality Type, The INFJ – Understanding the Mystic, and The INFP – Understanding the Dreamer. You can also connect with me via Facebook, Instagram, or Twitter!
Other Articles You Might Enjoy:
The INFJ Ni-Ti Loop: How to Survive and Cope
Are INFJs Empaths? A Deeper Look
5 Things That Every Stressed Out INFJ Needs to Hear