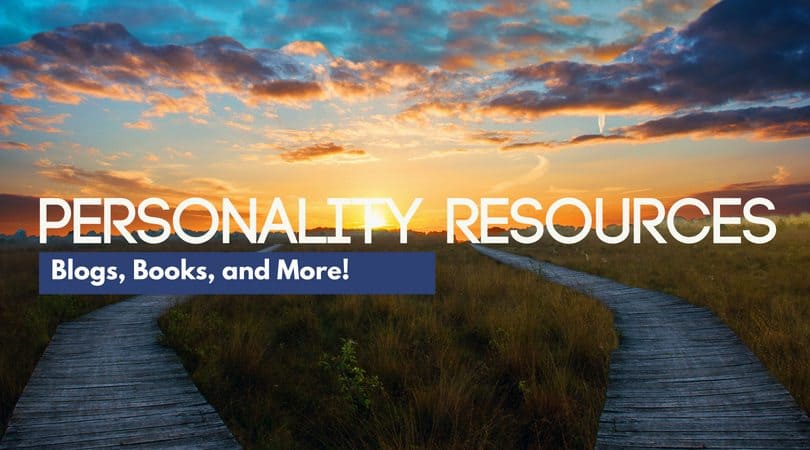 One of my goals at Psychology Junkie is to make sure that you have access to the most valuable and accurate information on type anywhere. I want you to have TONS of practical resources for knowing your type and getting as much helpful information as you can. While I constantly update my site with new articles and resources, there are some other sites and type professionals who can be extremely helpful! This is where you can find out all that information!
Disclaimer: This resource page does contain affiliate links. Anything you purchase from these links goes to keeping Psychology Junkie running smoothly!
Don't Know Your Personality Type?
Take our online personality questionnaire here.
Find out your child's personality type here.
If you want to take the official MBTI® Indicator, you can do that here.
The Best Personality Blogs Online 
These are the blogs I turn to for advice, tips, and inspiration. Definitely check these out!
This site is chock-full of in-depth type information on all 16 types. It was founded in 2009 by Dr. A.J. Drenth, who has also written several amazing eBooks about personality type. Drenth steers clear of stereotypes and misconceptions and aims for accuracy in all his descriptions.
Antonia Dodge and Joel Mark-Witt have created a stunning informational web site full of useful articles, podcasts, videos, starter kits, and more! You'll also want to check out their podcast for all kinds of personal growth tips and life hacks!
Truity is an excellent resource for learning in-depth about each type. The site is well-organized and features tons of guest posts from some of the greatest type professionals and bloggers in the world.
Heidi Priebe
Heidi Priebe is one of the most engaging and relatable personality bloggers out there! If you want to learn more about type, she combines insight and humor perfectly. Check out her articles here and here.
If you are an introverted personality type, definitely check out this site! You'll find tons of relatable, inspiring articles for every introverted personality type!
Marissa Baker writes about spirituality and personality type. Her personality articles are top-notch and super helpful and informative. If you're a Christian you'll also enjoy her other articles about faith and spirituality!
My Favorite Personality Books
Building Blocks of Personality Type: A Guide to Discovering the Hidden Secrets of the Personality Type Code
 by Leona Haas and Mark Hunziker
Psychological Types (The Collected Works of C. G. Jung, Vol. 6) (Bollingen Series XX)
 by Carl Jung
Gifts Differing: Understanding Personality Type by Isabel Briggs-Myers
Neuroscience of Personality: Brain Savvy Insights for All Types of People by Dario Nardi
Please Understand Me II: Temperament, Character, Intelligence by David Keirsey
Depth Typology: C. G. Jung, Isabel Myers, John Beebe and The Guide Map to Becoming Who We Are by Mark Hunziker
Nurture by Nature: Understand Your Child's Personality Type – And Become a Better Parent
 by Paul D. Tieger & Barbara Barron-Tieger
The 16 Personality Types: Profiles, Theory, & Type Development  by A.J. Drenth
Tranquility by Type: Stress Relief Tips for Your Unique Personality Type
 by Susan Storm
The INFJ – Understanding the Mystic by Susan Storm (me!)
The Comprehensive ENFP Survival Guide  by Heidi Priebe
The Comprehensive INFP Survival Guide
 by Heidi Priebe
The INTP: Personality, Careers, Relationships, & the Quest for Truth and Meaning
 by A.J. Drenth
Online Personality Type Courses
This is a course I wrote for parents or teachers who want to learn how to find their children's personality types as well as work with their unique communication styles, love languages, and more.
Personality Hacker's Personality Starter Kits
These courses give you a deep-dive into each personality type and provide practical tips for life, relationship, and career.
Personality Type Practitioners and Coaches
Not sure about your personality type and don't want to rely on a free test? Here are some coaches I know personally who are amazing at what they do!
Denzel is a certified ENFJ life coach who can help you to narrow down your personality type, learn how your mind is wired, and inspire you in your goals for life. He's extremely friendly, easy to talk to, and well-versed in type theory.
Leslie McDaniel is a certified MBTI® practitioner and life coach with a lot of insight into type, goal achievement, and personal growth. Her focus is helping INFJ women make their vision a reality.