INFP vs INFJ – Your Super-Simple Guide
Are you sick of reading INFJ or INFP articles and feeling just as lost as ever? I've written articles comparing the two types, gone onto long discourses about the cognitive functions, and so on. But I think the answer lies in simplicity.
Today let me break down the differences as quickly and simplistically as possible.
Keep in mind, you will at times relate to both INFJ and INFP statements. The question is which is most natural to you? Which is your most intrinsic urge?
Estimated reading time: 5 minutes
INFP vs. INFJ – Your Super-Simple Guide
INFJs
You externalize your feelings in order to organize them. You want a harmonious outer world where everyone is cooperating to create group harmony.
What this can look like: Venting your feelings in order to get advice that will help you refine your feelings and understand them objectively. You often look past your individual feelings if you see group disharmony that needs to be dealt with.
INFPs
You internalize your feelings in order to organize them. You want a harmonious inner world where you know that you're living in alignment with your individual values.
What this can look like: Needing to get away when you have intense feelings rather than externalize them. Needing to shut the door on others and analyze your feelings in private. Wanting validation for your feelings rather than advice or feedback. Marching to the beat of your own drum instead of adhering to group values (unless they coincide with your individual values).
INFJs
You internalize your perceptions, discarding possibilities and theories that seem implausible. You're looking for the long-term ripple-effects of current experiences. Your intuition is like an arrow zooming through the clutter trying to land on one future outcome as the thing that WILL happen.
What this can look like: Putting all your eggs in one basket. Tailoring the bulk of your life around one strategy. Waiting for the perfect timing to begin an individual ambition – only beginning when you have a crystallized image in your mind of how it will unfold.
INFPs
You externalize your perceptions. You extrapolate possibilities, imagine multiple scenarios, and never want to be tied down to one plan. You're strict in adhering to your personal code of ethics, but you're more open-minded about your views on what could happen in the future.
What this can look like: Experimenting with many different projects and seeing potential everywhere. Having a more random, scattered approach to accomplishing things. Having an emerging vision as you work on something and being willing to switch gears quickly if necessary.
INFJs
You believe that the early bird gets the worm. When you have a job, task, or project to accomplish, you aim to begin right away and work at a methodical pace until it's finished. The idea of "sprinting" to finish a task at the last minute fills you with dread because you want to have plenty of time to examine a finished project and check for errors.
INFPs
You believe that being flexible and waiting for inspiration is essential when given a project or task. You like gathering information, taking in more and more until you decide what's right for you. Having open-ended, flexible plans is a comfort to you. Rushing to get a project done feels overwhelming because you never know what inspiration might cause you to switch gears or add a different flourish to something you've begun.
INFJs
You eliminate uncertainty through making decisions. If you go on a vacation you're likely to plan it all out ahead of time and know and envision exactly how you want things to unfold.
INFPs
You enjoy surprises. If you go on a vacation you might plan a few basics, but leave the rest up to the desires of the moment. Creating a detailed plan would be silly because you might feel like you're in the mood for something else when the time arises.
INFJs
You seek relatedness with others. You share experiences to find people with similar experiences. Solidarity is crucial. You often crowdsource opinions, checking your feelings against external sources. You want to know that your feelings "make sense."
INFPs
You seek harmony and connection with yourself. You have inner ideals and values that you wish the world would also embrace. You observe and analyze your feelings over your lifetime, categorizing them, and working to understand them. This gives you a keen awareness of what feelings mean, inside yourself, and in others.
To sum it up:
INFJs live for those sudden "aha" epiphanies that reveal a future vision to them. They live to predict and anticipate. They want to comprehend the background processes at work in situations such as hidden meanings or ulterior motives. Think of a philosopher who tailors his life around a vision of the future and what it means for humanity.
INFPs live to see their inner ideals validated in the outer world. Sometimes this happens through artistic expression or writing, at other times this may happen through travel or friendship. Think of a poet who brings their inner heart out through prose and passionate wording.
Still not sure?
Many people think they are either an INFJ or an INFP and they are, in fact, an ISFP or an ISFJ. You can take our questionnaire to find out which of these four types feels the most accurate to you! Remember, even a test can't tell you who you are. It takes time with yourself for you to uncover the best-fit type that characterizes you.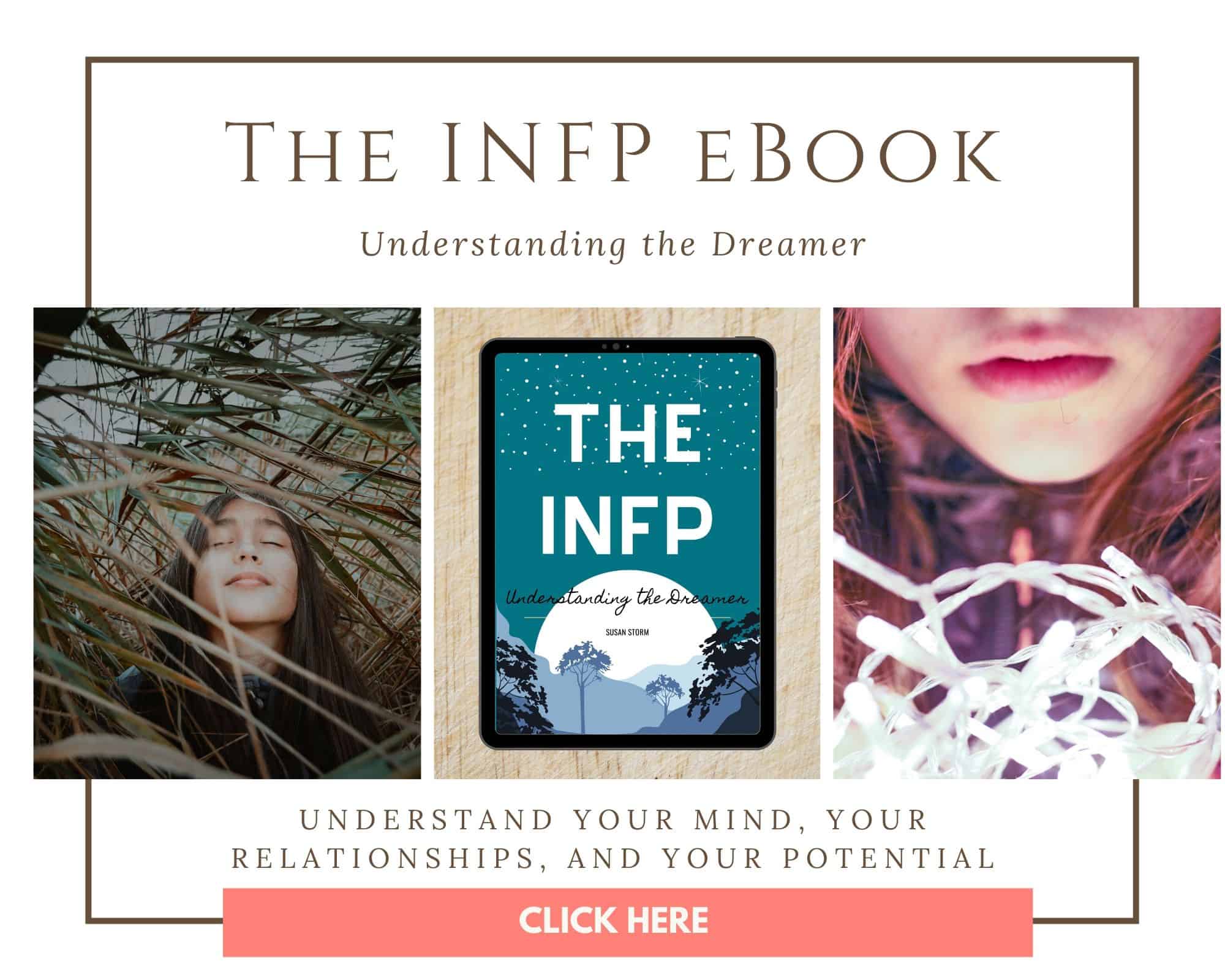 What Are Your Thoughts?
Do you have any thoughts, experiences, or insights to share? Let us know in the comments!
Find out more about your personality type in our eBooks, Discovering You: Unlocking the Power of Personality Type, The INFJ – Understanding the Mystic, The INFP – Understanding the Dreamer, and The INTJ – Understanding the Strategist. You can also connect with me via Facebook, Instagram, or Twitter!