12 Awkward Moments INFJs Absolutely Hate
As an INFJ, do you ever feel plagued by awkward moments? Today we're exploring twelve encounters that make INFJs feel like running into their rooms and never coming out again!
Not sure what your personality type is? Take our new personality questionnaire here. Or you can take the official MBTI® here.
Awkward Moments INFJs Absolutely Hate
Calling something out prematurely
You're sitting around with a group of friends and someone's sharing a story that will inevitably lead to a shocking conclusion. Your intuition is in high-gear and you suddenly blurt out the conclusion before he or she has had a chance to explain it. Everyone turns to stare at you and you realize you spoiled the ending. You look down at your phone and pretend to be distracted while you take a sip of soda. Your friend blurts out, "How did you KNOW that?!"
Inferior sensing moments
As an INFJ you live in your head more than the concrete world around you. Extraverted Sensation (Se) is your inferior function, and guess what Se is good at? Paying attention to details, reacting quickly, and being in tune with physical surroundings. Because of this, SP types tend to be good at physical skills and reacting to sudden changes. As an INFJ, you might imagine that you are skilled at Se-type tasks, only to have a harsh wake-up call. This wake-up call could be walking into a wall while you're staring seductively at your crush, wearing flip-flops on a torrentially rainy day, or trying to dance only to trip over your own feet.
Being everyone's confidante
One of your friends has confided in you about a problem they're having with a friend. Unbeknownst to them, that friend has also confided in you about their issues with the first friend. You somehow wind up in an encounter with both friends and you realize that you've discovered another circle of Dante's hell.
Being the most underwhelming partier
You're watching a football game or you're at some other celebration and moods are high. People are high-fiving, cheering, and otherwise overdoing it emotionally. As an INFJ you tend to feel out-of-your-element in these situations. You might attempt to cheer only to be taken aback by the awkward tension and self-consciousness in your voice.
Pulling a door that says "push" and vice-versa
Yet another low-sensing moment. Just pretend nobody saw that, okay?
Facebook stalking someone and accidentally liking their picture from seven years ago
Your Extraverted Feeling (Fe) side just can't handle this. You know exactly how this will look and you're not prepared for the social awkwardness – especially if you have to see that person on a regular basis.
Crying during an emotional movie only to look around and see dry eyes
It's movie night with your friends and they put on "Little Women." You know, the movie where someone you love dies in a very heart-wrenching, sentimental moment. Tears are streaming down your face and you realize you don't have any tissues. Your friend hands you a box of tissues and as you blubber out a "thank you" you realize that everyone else in the room is dry-eyed and looking at you quizzically.
Attempting to parallel park in front of an outdoor restaurant with lots of people watching
Parallel parking is a hard-learned skill for Se-inferior types. But even if you've mastered the skill, doing it in front of a bunch of onlookers makes your stomach church. This will inevitably be the time where you screw up massively.
Meeting an ex you hate, only to find yourself "playing nice"
You meet someone you despise at a public place and even though you've vowed to "loathe them for all eternity" (props to Elizabeth Bennett) you find yourself smiling, asking them how they've been, and wishing them the best. Your Fe took the wheel in that situation and prioritized ease over authenticity. You walk away shaking your head and cursing your social awareness and empathy.
When someone says they're going to a funeral or something else somber, and you reflexively blurt out "have fun!"
Your Fe is going to kill you for this. You will recycle this moment in your mind for decades to come. Sleep will be fitful, palms will be sweaty, and you'll have nightmares where you re-live this moment in slow-motion.
Replying to someone you think is talking to you, but actually they're on Bluetooth
I think this is awkward for everyone really.
Getting lost in your imagination when someone's telling you something important
Your intuition and imagination beckon to you during conversations that revolve around mundane, day-to-day subjects. That said, you might find yourself deeply invested in an imaginative storyline only to realize the subject matter has shifted and someone's looking at you with an expectant face waiting for a response.
What Are Your Thoughts?
Do you have any awkward moments you'd like to share? Let us know in the comments!
Find out more about your personality type in our eBooks, Discovering You: Unlocking the Power of Personality Type,  The INFJ – Understanding the Mystic, and The INFP – Understanding the Dreamer. You can also connect with me via Facebook, Instagram, or Twitter!
Other Articles You Might Enjoy:
10 Things You Should Never Say to an INFJ
10 Fictional Characters You'll Relate to if You're an INFJ
3 Weird and Wonderful Secrets About the INFJ Personality Type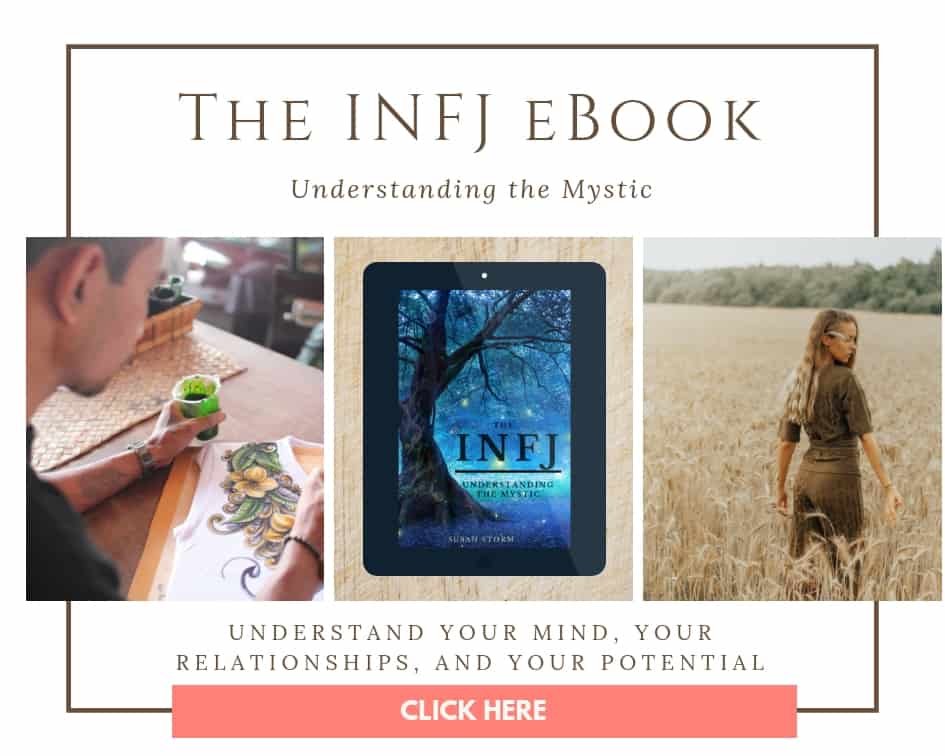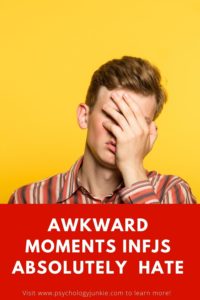 The following two tabs change content below.
Susan Storm is a certified MBTI® practitioner and lover of all things psychology-related. She is the mom of five beautiful children and loves using her knowledge of personality type to understand them and others better! Follow her on Facebook, Twitter, or Pinterest to learn more about type!
Latest posts by Susan Storm (see all)